Respawn Entertainment's free-to-play battle royale game Apex Legends reveals its new Spellbound Collection Event, bringing loads of new content for players to enjoy.
Currently in its 15th successful season, Apex Legends is a widely popular game that supports cross-platform play and is available on all major platforms, including PC, PS4, PS5, Nintendo Switch, Xbox One, and Xbox Series X/S. Players love hopping into two and three-player squads and playing as "legends" or different heroes that have specific skills and abilities.
Throughout its seasons, Apex Legends has had various events and updates that have added content and made changes to keep things fresh for players, so now fans are excited to find out what the new year will bring.
What is the Spellbound Collection Event?
New skins, private matches, and the fan-favorite LTM Control are all included in this event and players will be able to access it all starting January 10th!
In a hero-based game like Apex Legends, collecting new skins for heroes is always a big priority for players. There are 23 unique characters to choose from in Apex Legends, and each has a fully customized playstyle that may or may not speak to various players.
First-person shooter games are highly competitive and can even have a steep learning curve, especially if they have a lot of different mechanics to learn. However, one thing that definitely brings the entire community together with these types of games is skin-collecting.
The Spellbound Collection Event introduces many new skins for characters like Mirage, Seer, Mad Maggie, and Vantage. These skins plus other cosmetic items (for a total of 24 limited-time items) will be added during this event.
Players have until January 24th to get their hands on these skins and other cosmetic items, which gives them a full two weeks to get it done. However, there is a way for players to earn some free items as well!
What is the Reward Tracker?
As with previous collection events, the Reward Tracker allows players to earn free items by progressing in various ways – an easy way for fans to get their hands on some great gear!
It is always a good sign when game developers allow players a chance to get their hands on in-game items, both utility-related and cosmetic items, by accomplishing in-game tasks instead of just going solely for the micro-transactions route.
But the question is – how do players accumulate points in order to get their hands on these items? Well, the return of a fan-favorite game mode is the wondrous answer to that question.
Control Limited-Time Mode
A 9 vs. 9 battle to control the different zones on the map with infinite respawns – Control is back! Fans are excited to see this game mode return once again.
It is true that Apex Legends players have been calling for Control to become a permanent game mode for quite some time, ever since its launch early last year. However, for now, it seems that the mode will only be available over the course of the two week event.
In any case, players will be able to play it as many times as they want during that time and the larger scale PVP matches are sure to be a popular hit.
Control will be available at three different POIs on different maps in Apex Legends. Storm Point: Barometer. World's Edge: Lava Siphon. Olympus: Hammond Labs. There are also a number of updates to the game mode being added as well:
Join In Progress extended further into match ( Matchmaking will try to fill empty player slots until 1 team has a score of 625 or there is a score difference of 300 between the teams)
Players that join a match in progress get some helpful boosts for their first spawn:

Skip the first spawn wave
Spawn with Purple Armor and Helmet
Get a full Ratings Tier ( Purple Weapons and an Ultimate Charge)

Added new end-of-match XP reward to Control (150 XP for completing a match).
If a team is losing by a score of 62 or more, they skip spawn waves.
Added Distance Indicator on the MRB in-world Icon.
Added Time Remaining Indicator on the MRB spawn point Map Icon.
Display a hint message when MRB placement is not possible explaining why placement is failing (too close to friendly or enemy Home Base, too close to a Zone).
Bloodhound clues clean up after 30 secs instead of 90 secs.
Clean up Bloodhound clues when the player that left them behind dies (except for the player death clue).
Some more spawn tuning to further try to prevent players from spawning close to enemies.
Set the Inventory Tab as the default ( instead of Scoreboard ) when accessing menus during gameplay.
Updates to Loadouts in the Loadout Selection Menu based on Weapon Meta Changes
Bug and Crash Fixes
Private Matches
Players can now create and host their own tournaments! By generating a unique match code, players can take on the role of host and create their own Apex Legends tournaments with their friends.
Players will be able to create tournaments with up to 20 squads, making for even more multiplayer fun. More information has not been released about this yet, but players are advised to check the FAQs closer to the next patch for more information about these private matches and tournaments.
Seer's "Showstoppers"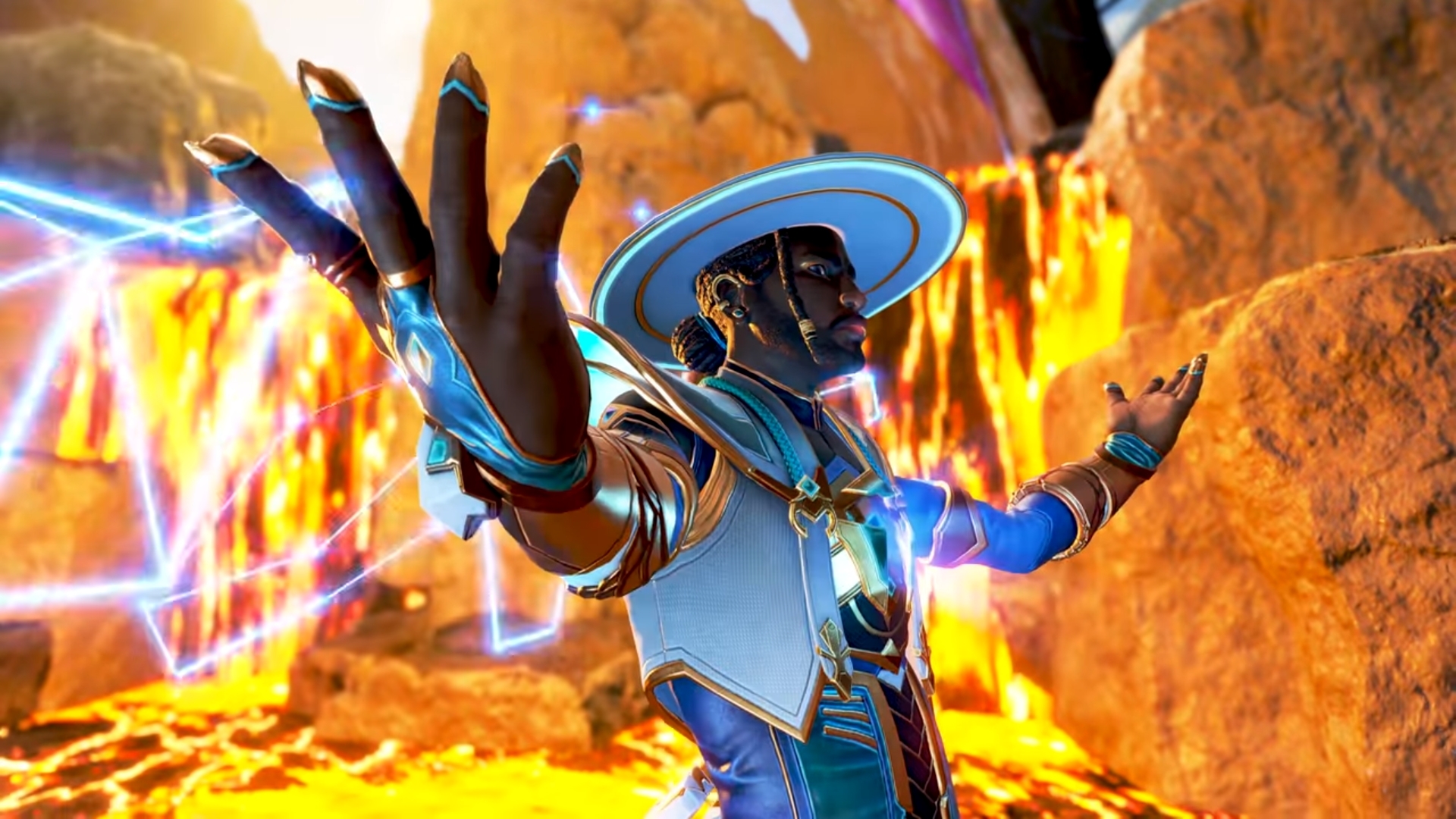 Seer players and fans will be happy to know that Seer's Heirloom weapon, "Showstoppers," is coming with this Event as well!
Apex Legends players can automatically unlock Seer's Heirloom weapon, Showstoppers, if they unlock all 24 new cosmetic items during the course of the Event. This means players have from January 10th until January 24th to accomplish this task.
Bug Fixes
As with any major update, the Spellbound Collection Event also includes a patch that fixes some bugs and glitches that have been taking place within Apex Legends. A full list of the bug fixes can be found here:
Fixed mirage decoys not showing shield regen fx when near a Wattson Pylon or in Control or Gun Game modes.
10 new Welcome Challenges added to help new players learn Apex.
New "Apex 101" badge reward for completing all 10 Welcome Challenges.
Changing characters in the Firing Range now has a smoother third-person transition.
Fixed rare issue with Mobile Respawn Beacon sometimes spawning the Dropship out of bounds.
Fixed issue with ability previews when entering Phase Portals.
Doors now always appear as damaged when they're one melee attack away from being destroyed.
Caustic Town Takeover loot canisters now behave more reliably in Control Mode.
Reduced the VFX of Caustic's gas flash.
Fixed rare client crash with IMC Armories.
Fixed the raven in Bloodhound's Niflheim Hundr skin to appear as white more reliably.
DirectX 12 beta: added support for the Brightness slider in all Display Modes.
DirectX 12 beta: Fixed crash with setting.mat_backbuffer_count "0" in videoconfig.txt settings. Note that Apex Legends running in DirectX 11 (DX11) requires the operating system to use an additional buffer for compositing, which was not counted in mat_backbuffer_count. DX12 includes that required buffer in mat_backbuffer_count, so DX12 in full-screen mode with "1" will be just as low latency as DX11 with "0".
Fixed issue where Crypto could inspect while using their drone removing the HUD.
Fixed issue where the lobby tabs would enter an unresponsive state after changing resolution on PC.
Adjusted hold and tap logic for controller players viewing weapons in Loadouts to be more responsive.